May I have this dance?
Students envision ideal themes, features for school dances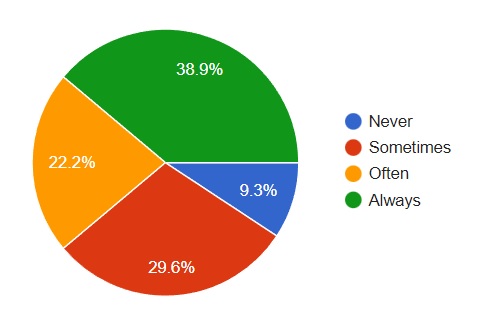 School dances (specifically prom) trace back as far as the 1800s. Early dances set the standard of being places for students to convene and take part in amusing activities particularly surrounding a common theme or idea. In the present, dances have now evolved to have many different varieties and kinds of school dances.
Recently, Turnabout took place at St. Viator. Students gathered for a lively night of dancing and socialization.
"My favorite part was hanging out with all my friends and getting to sing together which was really fun," said sophomore Nevaeh Szparkowski. "I liked the dances at Saint Viator because it gave me a chance to hang out with my friends. I like that there is no pressure to have a date— everyone is welcome."
According to an online Viator Voice poll of 54 students, 61 percent of students attend school dances "always" or "often." Although dances have been successful, some students have envisioned other possibilities.
Szparkowski said she would like to see "something like a red carpet and we wear outfits inspired by celebrities at the Grammys or other award shows."
Other students shared ideas about the dance's aesthetic.
"My ideal school dance would look like an interactive DJ, fun decorations pertaining to the theme, a good song mash-up track, and photobooth (possibly multiple)," said freshman Maddie Studer.
Freshman Xochitl Churi offered other ideas, such as holding the dance outdoors or theming it to the Gilded Age, the Roaring '20s, Paris, or surfing.
"My ideal school dance would be under the sea theme with a delicious punch bowl and maybe some cookies," said freshman Addie Peters. "We would have a great DJ that has great music."
"My ideal school dance would have the theme Emerald City or Casino Night," said freshman Marcella Vitullo. "The music at the dance would be what is popular, mixed with some good throwbacks. Food is not needed, but there would be drinks, like water and sodas."
Some students also suggested smaller ideas.
Freshman Moly Finucane said she would like to see "some snacks, bottled water, well known happy music."
Evidently many students attend dances and wish to see things added, but there is one constant.
"Everyone goes there and has lots of school spirit," said senior Taylor Petrillo.
Your donation will support the student journalists of Saint Viator High School. Your contribution will allow us to purchase equipment and cover our annual website hosting costs.