Former Lion tackles NFL "head-on"
On Jan. 2, Cole Kmet '17 announced that he will be declaring for the 2020 NFL draft after his junior year as a tight end at the University of Notre Dame.
Throughout his collegiate career, he amassed 60 catches for 691 yards rushed as well as six touchdowns, tying the school record for most touchdowns scored by a tight end.
Kmet originally planned to finish his senior year for the Irish, but made the decision to declare for the draft after receiving a second round NFL grade.
"It is hard saying goodbye to so many amazing people. However, the University of Notre Dame provides its students with the tools necessary to leave South Bend and make a positive impact on the world. Declaring for the 2020 NFL Draft is my first step in that direction," Kmet announced in a statement via Twitter.
Many analysts currently speculate that he will receive a late first round pick, including draft analyst for The Athletic, Dane Brugler.
"He checks a lot of boxes with his mix of size, athleticism and ball skills," said Brugler.
"I think the biggest thing [that sets him apart from other athletes] is his commitment to excellence and [his] wanting to be the best that he can be and putting in the work to do so," said Mr. Ed Fay, athletic director at St. Anne Parish School, where Kmet graduated in 2013.
"When he was at St. Anne, his work ethic was second to none. His commitment to excellence and his devotion to his faith are things that really propelled him to where he is today," said Fay.
While at Viator, Kmet was a two-sport athlete, playing football and baseball, both of which he continued collegiately. In 2017, he led the Lions to a Class 3A Baseball State Championship and at Notre Dame, he appeared in 34 total games as a relief pitcher. In addition, Kmet would also be eligible as of June for the MLB draft.
"Cole had uncommon athletic ability, but never relied on that alone. He constantly worked to become a better athlete," said varsity football coach Mr. Dave Archibald.
"Growing in values like selflessness and mental toughness will help our student-athletes in a myriad of ways in life, and those virtues also give you a better chance for growth and success in athletic competition. The pillars of Saint Viator athletics and our football program are founded on getting student-athletes to challenge themselves and sacrifice in order to grow spiritually, emotionally and athletically," Coach Archibald said.
Kmet's success as a tight end is especially admirable considering he was accustomed to playing as a wide receiver until his senior season at Viator. Always looking for ways to be an asset to the team, Cole was not afraid to challenge himself and get out of his comfort zone, taking initiative to ask to be on special teams, such as a punt return team.
"It was a testament to Cole's character because there are players of his caliber who unfortunately think they are beyond special teams, and I was trying to get Cole a break where I could… he was thinking about what more he could give and how he could help the team," said Coach Archibald
Despite the success Kmet has found, he remains humble and stays grounded, never abandoning the things most valuable to him- his family and his faith.
"Seeing him come back while he was at Notre Dame…for his little brother's fifth grade basketball game was huge to me. When you go to a big time program like Notre Dame and you get the accolades that he has gotten, it [can be] very easy for a young man to get lost in himself. He has stayed as humble as if he was still at St. Anne," said Fay.
Kmet hopes to become part of a small group of Viator alums who have played in the NFL, who include John Gillen '77, Mike Guendling '80, Jarret Payton '99, Brett Basanez '01, and Emmet Cleary '08. The draft will begin on Apr. 23 in Paradise, Nev.
"It has been exciting to watch Cole play at Notre Dame because following his path has been different than just checking a box score or watching a random college game. It's special when you are watching someone you know and with whom you share some of your football story," Coach Archibald said.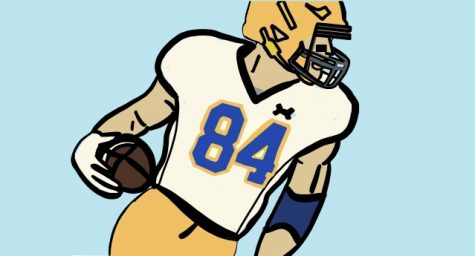 Your donation will support the student journalists of Saint Viator High School. Your contribution will allow us to purchase equipment and cover our annual website hosting costs.