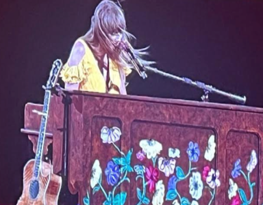 On the first weekend of June, an "entertainment supernova" ignited Chicago's Soldier Field for three nights. The Eras Tour spectacle had Taylor Swift at the helm of her first global tour in five years. In that time frame, the pop singer released four albums under the Universal Music Group record label. She also led a social media exposé on the behind-the-scenes between her former record label and a music industry manager for the ownership of her masters.
As a result, the artist decided to re-record the albums under her former Big Machine Records, following the five-year release wait period established by a contractual agreement, while adding to her catalog "Lover," "Folklore," "Evermore" and "Midnights" with her new label UMG.
Ms. Swift's mastermind endeavor of her triumphant comeback gave life to " The Eras Tour," a music phenomenon that since May 2023 has been lighting up city skies on the American tour leg with a display of fireworks, a country-pop celebration of Ms. Swift's journey as a performer and quick-witted songwriter.
"Swifties," a trademark nickname coined for her devoted fans, showed up in Chicago, traveling from all corners of the country and every continent, gathering this time in our city to celebrate the music that is part of the soundtrack of their lives.
Neither the controversy behind Ticketmaster's questionable business practices, which led to a session from United States Congress shedding light on the issue nor the hours of wait time in the queue of electronic devices deter audiences from earning the right to purchase the most sought ticket in the music industry or from filling out the stadium to the nosebleeds.
The global wonder that the "Eras Tour" has become has Ms. Alison Taylor Swift, her sharp and witty penmanship, and her fans as protagonists.
From friendship bracelets to album-inspired outfits to entire family generations assemblies to attend this string of performances with world leaders beseeching for the opportunity to host the tour in their countries.
An entertainment and worldwide economic wonder, that boosts tourism translated into restaurants and hotels at capacity at each place the tour arrives, bringing significant revenues to the hosting metropolises.
On a fair weather weekend, students from Saint Viator answered the call and joined the party at Soldier Field to celebrate the magic, singing wholeheartedly the songs they grew up with while making memories with friends, feeling proud of their "swiftiehood status," I was among them. It was an irreplicable moment in time.