All for one and one for all
Newest club fosters friendship and fun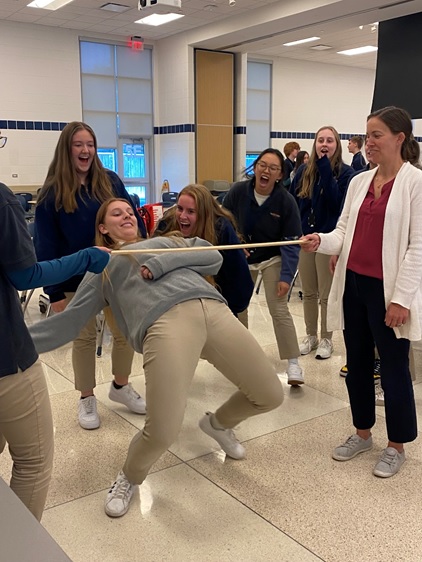 Todos son bienvenidos. 모두 다 환영합니다. Wszystkich witamy. 所有人都欢迎. All are welcome. These words are woven deeply into Saint Viator's core mission. In recent months, the Saint Viator community has dedicated time and various resources to leading a diversity-building initiative. Social activities and regular culturally inspired announcements serve to ensure that the entire student body feels a positive extension of welcome. 
Saint Viator's population represents numerous ethnicities and religions. Awareness of this diversity is at the forefront of the community-building effort and made possible through the school's regular announcements. This year's announcements have covered seven different culturally significant events that provide education on ethnic topics relevant to the Saint Viator community. In addition, thirteen prayers that recognize and represent assorted ethnic and religious groups have been recited. 
This provision of education is a proactive way to combat the formation of common, negative stereotypes surrounding diversity. Brother Rob, a passionate promoter of this diversity initiative, expressed the goal. 
"We want students to know that all are welcome, and all have a place here at Saint Viator," Br. Rob said. 
In addition to increased education, the community is being strengthened by the implementation of diverse social activities. These activities have included an ice cream social, intramural basketball, Lotería, and kickball. Ms. Slezak, who has taken on the role of event coordinator, is thrilled with the initiative's success so far. 
"Hosting these events has enabled us to bring students together in a way we have been unable to previously," Ms. Slezak said. 
This year, the initiative's activity portion successfully commenced with an ice cream social. Students participated in limbo contests while enjoying ice cream with fellow students. Junior, Ranya Alkass, expressed her approval for the event.
"It was wonderful having the opportunity to slow down and appreciate time with those around me," Alkass said. 
Most recently, students and staff enjoyed coming together for intramural basketball. Over thirty teams participated in this exhilarating, week-long tournament. All participants worked in conjunction to create a fun and memorable experience for one another. Inspired by this sporting success, Ms. Slezak has begun planning the next event: dodgeball.
As for the future, plans remain open-ended. However, this initiative continues to grow and invite positivity. In turn, the community strengthens as a united front and grows in its inclusivity for all.
Your donation will support the student journalists of Saint Viator High School. Your contribution will allow us to purchase equipment and cover our annual website hosting costs.