Working from home like you've never seen before
Perks of getting from bedroom to classroom by one flight of stairs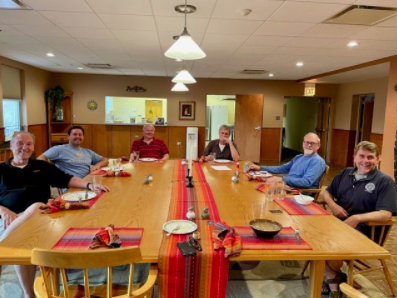 Every year, the newly arrived freshmen tour the living quarters of the Viatorian priests and brothers as a part of their faith class. Students are able to see how the Viatorians live and understand the Viatorians' roles in the Saint Viator community. This tour, however, does not give us an in-depth look into the lives of our faith-filled friends.
The live-in Viatorians consist of Father Dan Hall, former history teacher and current Provincial Superior; Brother Michael Gosch, former English teacher and Director of Programs and Housing for the Viator House of Hospitality; Father Dan Lydon, current school president; Father Cory Brost, former President of Saint Viator High School and Executive Director of the Viator House of Hospitality; Brother Rob Robertson, a current guidance counselor; and Brother Peter Lamick.
Br. Peter—a theology teacher, coach, and Saint Viator alumnus—was able to provide more insight into his life as a Viatorian living above the school.
"Living in a school makes teaching and being a part of this community a part of my life," said Br. Peter.
As an alum, it was weird for him to be living in his former school, but he eventually grew accustomed to the situation. For him, there is not a distinct separation between school life and home life. It allows for him to be better connected with the community and be more involved with the people around him.
"A normal day starts with prayer in the chapel [at] approximately six o'clock," said Brother Peter, describing what his average day looks like living above the school. "After prayer, I'll eat some breakfast, get downstairs around seven, do grading and prep, and teach. Then, after school, I coach football, eat dinner at six, and around seven we have prayer. In the evening I will do work, and my day wraps up at about 10:30pm."
Although not all Viatorians share the same schedule, they have a similar morning and nighttime routine. This includes prayer and their meals.
"Living in the [school] is a constant reminder that my vocation is lived out in this building," said Brother Peter, in accordance with the other Viatorans like him.
Your donation will support the student journalists of Saint Viator High School. Your contribution will allow us to purchase equipment and cover our annual website hosting costs.