Chaotic couture alters Met Gala's spirit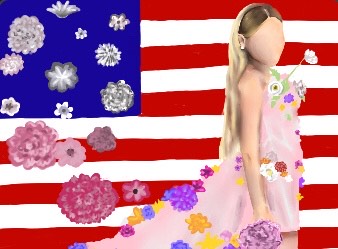 Since 1948, the Metropolitan Museum of Art in New York City has hosted an annual gala to raise money for their Costume Institute, with a theme corresponding to the exhibit. This year's theme was "America: A Lexicon of Fashion," and chairs included Vogue editor-in-chief Anna Wintour, singer Billie Eilish, actor Timothee Chalamet and poet Amanda Gorman. Many of the guests attempted to pay homage to various elements and prominent figures of American culture through their looks. However, several completely and seemingly obliviously missed the mark.
Perhaps the strangest look of the night was worn by none other than Kim Kardashian, who arrived in a skin tight black Balenciaga ensemble, covering every inch of her face and body.
"What's more American than a t-shirt head to toe?" Kardashian wrote on Instagram in response to questions over the outfit's meaning. Overall, the look was vague in intention and visually confusing in it's execution.
Next, couple Rihanna and A$AP Rocky arrived in what can only be compared to the likeness of your grandmother's quilts from the '90s. In fact, Eli Russell Linnetz, designer of A$AP Rocky's look, shared that he used a thrifted quilt blanket as a base for the overcoat. Rihanna's oversized Balenciaga overcoat
complimented this perfectly, despite the two's themes matching completely coincidentally, said Rihanna.
Kendall Jenner wore a crystal-embellished Givenchy gown, attempting to pay homage to Audrey Hepburn's famous transformation in the film "My Fair Lady". This is particularly questionable, and actually quite comical, because of the fact that Hepburn was in fact a British actress, as well as that "My Fair Lady" famously takes place in England.
One of the most controversial looks of the night came from US State Representative Alexandria Ocasio Cortez, who donned a custom Brother Vellies ivory gown with the words "Tax the Rich'' in red letters down the back. While seemingly in accordance with some of Cortez's political positions, this look is tinged with a particular kind of irony given that the cost of attending the Met Gala averages at 35 thousand dollars per guest (paid for by the designers and brands that dress them). Granted, AOC was allowed to attend for free as a New York elected official, yet the opulent nature of the gala as a whole weakens the dress' power as a political statement. Outside of the extravagant gala though, a protest took place for the Black Lives Matter movement, which almost made it more ironic that she donned a provocative phrase on her gown.
Despite the obvious head scratchers and sea of looks that are too ambiguous to represent any noticeable facet of American fashion, some guests stood out for their willingness to take risks and pay tribute to iconic figures from history.
Among these guests, prominent makeup artist and beauty influencer Nikkie de Jager—better known as "NikkieTutorials"—paid tribute to the remarkable Marsha P. Johnson, an outspoken and influential transgender activist. She wore a teal dress adorned with flowers lining the end as well as a flower crown gracefully lining her head. The gown was lined with the words "Pay it no mind", a famous saying of Johnson.
Quanna Chasinghorse, indigenous model and activist, paid appropriate tribute to her Native American identity for the event. She donned a glittering gold gown with traditional Navajo jewelry including bold earrings and stunning turquoise necklaces.
Co-chair Billie Eilish drew inspiration from Hollywood icon Marilyn Monroe in an ethereal Oscar de La Renta tulle gown, with a matching volumized bob to emulate Monroes' signature look.
Actress Lili Reinhart's dress embodied the theme of the night with its beautiful soft pink corset top and asymmetrical train that was covered with all fifty states' national flowers. Created by Project Runway mentor Christian Siriano, she spent her 25th birthday walking the runway of the Met Gala in style.
"Grown-ish" star Yara Shahidi honored African-American entertainer and trailblazer Josephine Baker with a custom beaded Christian Dior gown, and styled with matching gloves, a diamond choker, and a 1920's style cap. Shahidi expressed that she hoped to highlight the strides made by American women of color and to inspire young girls to be bold and assertive in their daily lives, like Baker, who persevered despite racial injustice in addition to working with the Red Cross during World War II in German-occupied France.
All in all, this year's gala had several clear winners, but most looks were not clear in relation to the Americana theme. There was so much potential for meaningful and intelligent looks, but there was an overwhelming amount of mediocrity. Those without clear interpretations of the theme went largely forgotten, but guests who attempted to make impactful statements and paid appropriate tribute shone as bright as ever.
Your donation will support the student journalists of Saint Viator High School. Your contribution will allow us to purchase equipment and cover our annual website hosting costs.