When you're a Lydon, you're a lion for life
Father Lydon goes from '73 alum to teacher to president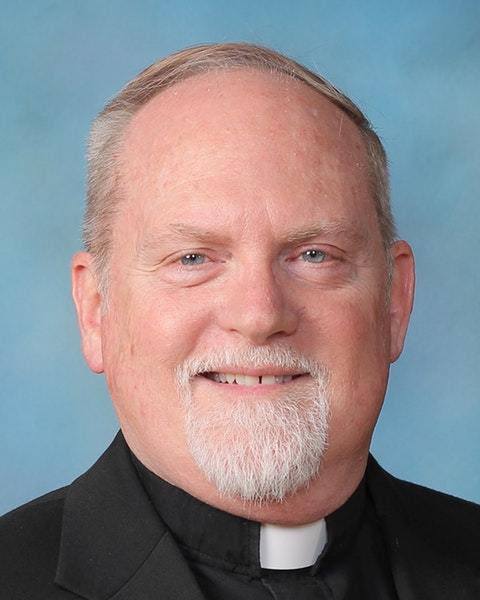 After five years as president, Mr. Brian Liedlich has announced that he will step down from his role this coming summer due to health issues. Mr. Liedlich will be passing on the torch to longtime Viatorian priest, teacher and administrator Fr. Dan Lydon '73, C.S.V.
Mr. Liedlich, a Viatorian lay associate, was the first president in the school's history who was not a priest. This precedent provided him with a unique challenge.
"One of my focuses in becoming the first lay president was to challenge our community and our volunteer leadership to own our mission in a new way," said Mr. Liedlich. "When there is a priest or religious leading an institution, there is an acceptance that they will own the mission and make sure the school is headed in the right direction."
With this in mind over the past five years, Mr. Liedlich completed much work behind the scenes with board committees to develop a strategic plan and a facilities master plan and to rewrite the school's mission, vision, and values statement..
"We tried to tie back all the things that differentiate us as a school back to the mission, vision and values," said Mr. Liedlich.
With these goals accomplished and citing family health difficulties that required him to reevaluate his work-life balance, Mr. Liedlich decided to retire from his position. Soon after, Board of Governors President Fr. Dan Hall, C.S.V., asked Fr. Lydon to consider taking on the job. While he was not involved in the selection process, Mr. Liedlich says that he has known Fr. Lydon for around 20 years.
"I spent a good deal of time in prayer and discernment about it," said Fr. Lydon, who ultimately accepted the appointment in mid-December.
Fr. Lydon is no stranger to Saint Viator. He was a student when it was an all-boys school, graduating in 1973. After some time in Los Angeles, Fr. Lydon returned to the suburbs and began teaching Spanish in 1994 after the teacher left on a health leave. He later served as assistant principal from 2000-2004 and associate principal from 2005-2006. Fr. Lydon spent the next several years as a well-regarded theology teacher.
"He was very friendly and connected well with all the kids, and all the kids in the class liked him," said senior Keely McClellan, a student in Fr. Lydon's Faith class as a freshman. "He'd be able to relate well with all the students in the school."
Since 2018, Fr. Lydon has continued to serve on the Board of Governors at Saint Viator, but he has also been associate pastor at Maternity of the Blessed Virgin Mary Church in Bourbonnais, Illinois.
"Working in a parish has been a wonderful experience for me," said Fr. Lydon. "It afforded me the opportunity to be stretched and to minister in ways I never would have had I never worked in a parish setting."
Nevertheless, Fr. Lydon says that he looks forward to once more returning to Saint Viator full-time.
"I enjoy the high energy of a school, and I especially enjoy the spirit of the students, faculty and staff of SVHS," said Fr. Lydon. "I am looking forward to the challenges that are part of being a leader in a Catholic high school in this day and age."
Fr. Lydon says that, as the new president of Saint Viator, he hopes to begin a Capital Campaign which could help fund construction projects or increase endowments, making a Saint Viator education available for more students in the future. Other plans include increasing the enrollment of the school and continuing a focus on diversity, equity and inclusion.
"My greatest goal will be to be present to the students, faculty, and staff, and to listen to them, so as to do what I can to make a great school even greater," said Fr. Lydon, who also credits the loyalty and energy of alumni.
Fr. Lydon's new position of leadership will likely bring on numerous challenges, particularly those stemming from the current pandemic and economic situation, but he feels that his wide range of past experiences have prepared him well.
"I worked for or under some of the most professional, pastoral, competent leaders you will find anywhere," said Fr. Lydon. "If I can continue what they have started, I'll be doing okay."
Your donation will support the student journalists of Saint Viator High School. Your contribution will allow us to purchase equipment and cover our annual website hosting costs.