Parishioners react to archdiocese merges, closings
Much has been occurring within our archdiocese because the Renew My Church program has decided to combine and regroup parishes and schools. This is in order to address the lack the funding certain parishes receives, the lack of priests the betterment of evangelization programs. Although the diocese is doing this in order to create an effective evangelization mission across all parishes, it is taking a toll on parishioners and students alike.
One group of schools that are merging next school year are Pope Francis Global Academy (formerly Saint Tarcissus), Saint Thecla, and Saint Cornelius. Pope Francis Global Academy will be the site of the combined school, and the old Saint Tarcissus Church will be the site of the new parish. This parish will be renamed in order to create a new identity for its parishioners and students.
For the students attending what was formerly Saint Tarcissus, this is not the first time they have gone through this process. In 2016, Saint Tarcissus merged with Our Lady of Victory, Saint Pascal and Saint Cornelius to form Pope Francis Global Academy.
"The first time when Tars closed, it was really bad," said sophomore Maeve McDonough. "Everyone one was really upset, and now we're kind of like 'here we go again.'"
Combining the schools and parishes also creates some social tension. For example, the school and Church have to be renamed in order to create a new identity so that no one feels left out.
"It's going to be different," said McDonough. "We are going to see a ton of new people around."
Adults are also being affected by this merger. French teacher Mrs. Laura Klaw is a parishioner at Saint Cornelius.
"It's really hard," said Mrs. Klaw. "I mean, [it's] the parish where your kids were baptized and where you go every Sunday and where you go for Christmas Eve and where they went to school before it shut [down]."
Physical education teacher Ms. Lisa Wilson has friends that are being affected as well.
"If we lose Catholic grade schools, hat definitely affects enrollment at Catholic high schools," said Ms. Wilson. "In recent years, Saint Viator has been pulling students from that area of Chicago. This could affect Saint Viator's enrollment."
However, theology teacher Mrs. Ann Perez has been through this process before when Saint Celestine became Saint Mother Theodore Guerin.
"I think [combining or closing schools] could help elementary schools because there are some Catholic elementary schools that struggle with enrollment," Mrs. Perez said. "If they were able to pool their resources and have one building as opposed to two or three buildings and have a class of maybe 40 or 50 as opposed to a class of 15 or 20 it would help the students [and] the school."
The financial benefits of combining and closing schools and parishes are immense, but it still hurts people to see their parish and school have to change.
Some schools decided to take their own action. Although it was supposed to merge with Saint Monica and Divine Savior, Saint Eugene Parish in Chicago has decided to completely shut down the school.
Many parishioners and members of these schools were extremely upset by this sudden decision to close down the beloved school.
"I am surprised and disappointed and mad and sad," said sixth grader Gia Vizzini. "I [might] have to start over at a new school, and I have to make new friends and leave my old friends. Nothing is going to be the same."
Evidently, the students are upset about losing the community they have had for so long.
"I'm devastated because I have been here [since] preschool, and Saint Eugene School is like a community," seventh grader Benideto Modica said. "Everyone knows everyone. I am in seventh grade, and I have one year left. I really want to graduate [because] I have been here [since] preschool. I have supported this school, and I do not [understand] why it is going to shut down."
Luckily, the parishioners and families of Saint Eugene are not going to go without a fight. On November 16, the local branch of the Italian Catholic Federation held a pasta party. All of the money raised was given to the school.
"The community supports the school," said parent Mrs. Ana Modica. "We have parents here who are alumni who still send their kids here. We have families that have been part of the parish for 40 plus years, so this community and this school is deeply rooted in faith, and they believe in the school. I do believe that it can sustain itself if it [has] to."
The Archdiocese of Chicago has already given a donation to Saint Eugene, leaving them with $250,000 to raise. The parishioners at Saint Eugene have also started giving their weekly Church envelopes to the school. Thanks to what the parishioners call "angel donors," they have already raised the $350,000. The parents of the Saint Eugene's students have already begun planning events to continue to raise more money and awareness.
Although the blending of these schools and parishes will benefit people financially, it is hard to say if the good outweighs the community that is lost.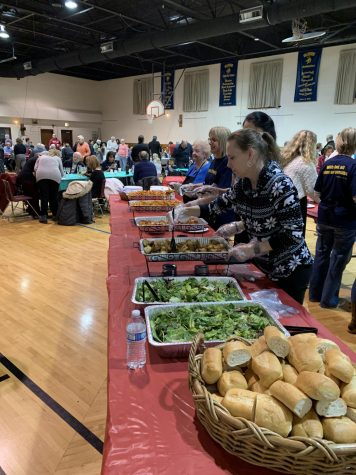 Your donation will support the student journalists of Saint Viator High School. Your contribution will allow us to purchase equipment and cover our annual website hosting costs.