What we do at home for the holidays
Students share their families' unique Christmas traditions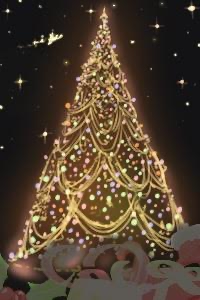 The weather is getting colder, and the leaves are falling faster. You know what that means: it's Christmastime!
Christmas is the time that we all come together to celebrate and remember the birth of Jesus Christ, but each family has their own way of doing so. This is where our personal traditions come into play. What does the holiday season entail for high school students? We all know the basic Christmas traditions, such as decorating the house and putting up the tree, but what are some more unique traditions that families in our community have?
"For my Christmas I go to my second cousin's house and we always have Polish food and play a game called 7-Eleven, where we bring gag gifts and play in order to win them," said freshman Paige Longstreet.
"My family always goes to my Grammy and Nonno's house to hang up ornaments on the tree as a family and play tops and bingo," said junior Michal Brankin. "We also decorate gingerbread houses with my whole extended family, as well."
Some people's traditions are centered more around their family's cultural aspects of the holidays.
"Around Christmas, we like driving around and seeing the lights on different houses," said sophomore Abigail Varvara. "We go to downtown Arlington Heights and see the lights there. We always put lights up and get a tree. I like putting together this miniature village with the nativity scene at the top. Every year we try to add another building to it. On Christmas day, we open presents and eat traditional Romanian food. We have people over and also go to church."
"In the morning my siblings and I sit on the top of the stairs waiting for our parents to wake up," said sophomore Olivia Tortorella. "When the parents are up and the camera is ready, we run in a herd to the living room and open all of our presents together. After we open presents, we have breakfast together and get ready to go to our grandparent's house. At our grandparent's house, we eat dinner and play dominoes and Mario Kart."
These are just a few personal examples of how students celebrate the festive season with their loved ones.