Freshman class retreats to find God, each other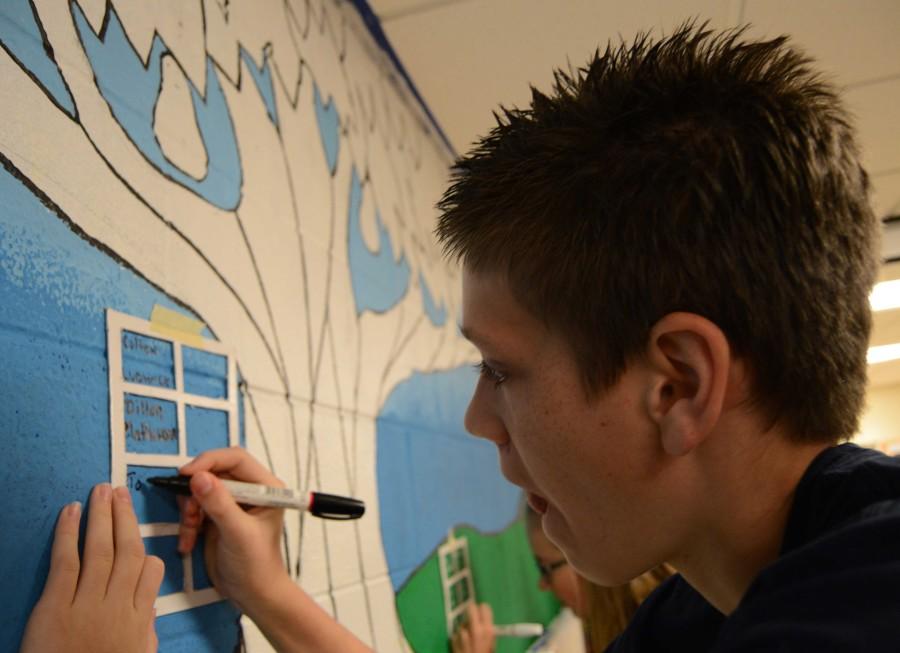 Brooke Puccini and Crystal Schuster
October 13, 2015
It's that time of year again, where freshmen are welcomed into the Viatorian community and participate in their first retreat of the school year. The Campus Ministry Team, including Br. John Eustice, Mrs. Nancy Devroy and Fr. Corey Brost, engaged in a three-month process of planning the retreat. Freshmen took part in a variety of different activities, including small group discussion, games, listening to a guest speaker and celebrating mass with their peers and families. The theme for the retreat was the same as the Viatorian motto: "Faith: Lived, Deepened and Celebrated."
"[The purpose of the retreat is to] get to know each other outside of class, understand that the foundation of the school is Jesus and to welcome the freshmen into a Catholic-Christian and Viatorian community" said Mrs. Devroy.
The retreat has been a successful work-in-progress for over 20 years because of the trusting environment of the small groups and student-lead activities.
"The student-lead system creates a unique environment that is different than your typical adult-lead retreat," said Mrs. Devroy.
"The [small-group] atmosphere felt very peaceful, which made the experience more comfortable," said freshman Amalia Sordo-Palacios.
Because of these comfortable surroundings, the retreat is effective each year in bringing the freshmen closer to each other and the upperclassmen. Furthermore, they become more interested in Campus Ministry and the other retreat. In addition to the retreats, Campus Ministry is a great way to get involved in the spiritual leadership of the school. Currently there are about seventy members on the team.
As you head into Querbes Hall for lunch, look for the newest mural for the class of 2019. The mural, painted by art teacher Mr. Matt Gruenfeld, displays the freshman class's spiritual theme, which they will try to live out over their next four years at St. Viator. To conclude the retreat, the freshmen signed their names on the mural.
"It was a religious experience I'll never forget," said freshman Kiana Resch.