Students, faculty from South Korea, Poland, Italy celebrate Christmas in diverse ways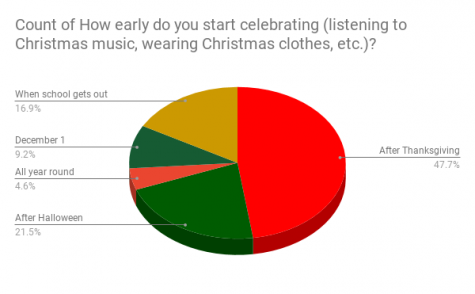 There are many similar ways that people in the school community celebrate Christmas, including decorating a Christmas tree, visiting family and having dinner together, exchanging gifts, hanging stockings, decorating the house, baking cookies, and going to church. 97% of students celebrate Christmas and 80% of students believe that they celebrate Christmas in a way that is unique to their families according to a poll on Google Forms of 65 students (results not scientific).
Christmas is a popular holiday celebrated worldwide, but there is more diversity within the school than one may be aware of.
***
Sophomore Jane Lee explains her experiences with the Christmas season in the United States compared to her homeland in South Korea.
Jane Lee:
"Christmas is celebrated more here, in the United States, than in Korea. The houses in Korea are very small and we do not have much room for decorations and a Christmas tree. I go to church in both Korea and the United States to celebrate Jesus' birth. We do not acknowledge Santa in Korea, unlike the United States. In both countries, we exchange gifts and spend time with our families."
***
Sophomore Charlie Cagann shares his Polish family traditions and how he celebrates Christmas.
Charlie Cagann:
"Every year on Christmas Eve, my family, who has a Polish background, gathers together with aunts, uncles, and cousins to say a prayer and break a Optatki, a wafer similar to the wafers received at communion. We each break off a piece and eat it."
***
Mrs. Rosemary Castellucci, Spanish teacher, describes her Italian traditions during the Christmas season.
Mrs. Castellucci:
"Everyone in my family comes to our house on Christmas Eve, and we gather together on Christmas Day to share a meal of Italian food and turkey for the kids. Normally, when I was a child, I did not receive presents until January 6 because, where I'm from, we do not give gifts until the Epiphany. January 6 is the Epiphany, or La Befana in Italian. This is when baby Jesus got his gifts, so when I was a child, we received our gifts on the same day that Jesus did. Now in Italy, they celebrate and exchange gifts on both Christmas and the epiphany, but when I was a child January 6 was the main event; that's when you got the big presents. For Christmas in Italy, the children only got the stocking stuffers, but since living in the United States we celebrate with gifts on Christmas and the Epiphany. This occurs all over Italy as a big Italian tradition, but it is not exclusive to Italy; the Epiphany is very significant in Spain and France as well."
***
There are many people within the school who celebrate Christmas by listening to Christmas music, wearing Christmas clothing, and decorating their houses. One of the biggest debates surrounding the holiday of Christmas is when the Christmas season officially begins. There are about 22% of students within the school who do not acknowledge the end of the fall season and Thanksgiving. They even begin celebrating Christmas right after Halloween. About 48% of students begin to celebrate these holiday traditions after Thanksgiving, about 9% of students that celebrate Christmas starting on December 1, and 17% of students celebrate the Christmas season only on the designated Christmas break. There is a small portion students, 4%, who listen to Christmas music and wear Christmas clothes all year round.
Whether or not everyone celebrates the holiday season in the same way within their families, students can be involved within the holiday season around the school. Upcoming holiday events include Campus Ministry Christmas Caroling and an all-school Mass.