Catwalk features 'haute' topics
Gucci appeals to millennials at Paris Fashion Week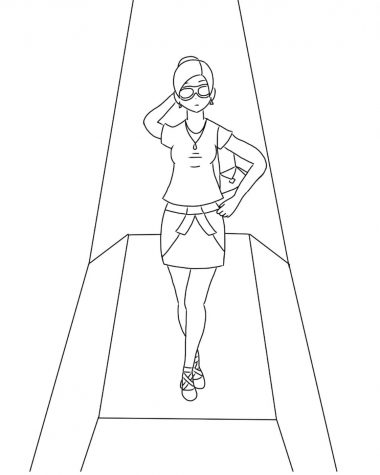 This year at Paris Fashion Week, the spirit of millennials and Generation Z was running rampant on the runway, with the flavor of the showcase fueling a much needed women's (and cultural) revolution. Designers such as Hedi Slimane, the new designer for Céline and the incredibly popular previous designer for Yves Saint Laurent, rattled the competition without fail with his new line of menswear and womenswear shown side-by-side. Gucci, a fan favorite, was back for more. Intertwined in the spirit of millennials, Gucci has become one of the most mainstream high-end fashion brands by encompassing the youthful spirit of its audience. Another veteran designer, Maison Margiela, implemented a "co-ed show." The common usage of this show format in the 2018 show reiterated the youthful millennial and Gen Z desire for social change.
Take Gucci for example. Gucci has experienced a revival in terms of a younger audience. Why? Many young celebrities, such as Rihanna and Kristen Stewart, have been seen in Gucci, and have been figures of social change. Rihanna, popular for education advocacy, was appointed Global Ambassador for education by the Global Partnership for Education. Many young girls and boys around the world look up to her, and by wearing a brand such as Gucci, many millennials and Gen Z'ers are drawn to the brand. Gucci's wildly successful "Dream Team" of Marco Bizzarri and Alessandro Michele have brought Gucci back into the limelight by using the fashion desires of young people to "rebrand." Gucci, capturing the attention of young people, can use their influence as a platform for social change that the young audience can in turn infuse into society by their loyalty to the brand. This is how the circle of fashion and social change go hand in hand.
Take another celebrity example, actress and feminist Kristen Stewart. Stewart, made famous by her role as Bella Swan in Twilight, hasn't stopped advocating for gender equality. Young girls and boys alike look up to her and are drawn to her fashion tastes, which happens to include Gucci. Although celebrities like Rihanna bring up important points about social change, it's important to note the widespread theme in Paris Fashion Week 2018, "co-ed" shows. The shows directly reflect gender equality and social change, which is something Kristen Stewart campaigns for. "Co-ed" shows were not only present in designers Céline, Gucci, and Maison Margiela, but also in the shows of designers Lemaire and Haider Ackermann. With growing popularity, social change is spreading to the runway, literally "showcasing" the desires of today's young people and introducing these ideas to other generations.