Talents 'revealed' as students join new show choir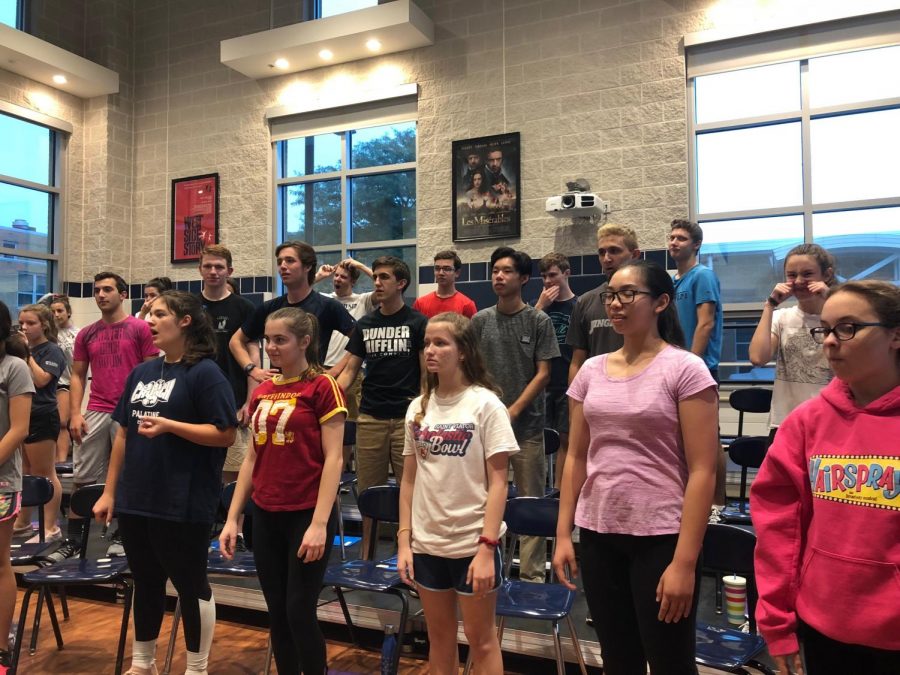 With many students participating in band, choir, and theater, fine arts are evidently big at Saint Viator. However, this year presents a unique opportunity not offered for many years: show choir. Unlike more traditional choral music, show choir involves both choreography and music from a variety of different styles.
"Everything is bigger than life. You get to combine movement and singing, and it asks you to communicate in the biggest way," said Mrs. Joleen Kragt, this year's new choral director. "My students are amazing and I want to add on to their vocal experiences through a variety of genres they might not have previously had."
Mrs. Kragt said that she had been involved with show choir since she was in high school and was eager to bring the opportunity to Saint Viator. "I have a huge passion for song, dance and performance, and I want to share it with my students."
There was no shortage of students to share this passion with—nearly 60 from all grade levels were eager to audition for the group.
"I'm looking forward to trying something new and really enjoying this experience that we are finally being offered," said senior Bridget Dillon.
"It's like musical all year round," said senior Nicole Durso.
Building show choir was no overnight task. Creating The Revelations took months of planning and required members to prepare to audition over a span of several days. However, Mrs. Kragt said that the hard work is rewarding.
"I look forward not only to watching my students grow musically and in their physical ability to dance, but also see their self-esteem and confidence skyrocket," said Mrs. Kragt.
The Revelations will not compete in their first year; however, they will be hard at work preparing for their performances, the first of which will be at the Fine Arts Festival on October 17th.
"We will be working very hard in creating this new endeavor at Saint Viator, and we hope they will come out and support us whenever we perform, especially next year when we perform at competitions" said Mrs. Kragt.