30 years ago, hallways looked completely different
Just thirty years ago, a time when many current students' parents were in high school, Saint Viator had a very different environment. There was no official uniform, seniors could go home for lunch and students could use a smoking pit. Most notably, female students were not present.
In 1987, Saint Viator High School and Sacred Heart of Mary High School in Rolling Meadows merged to form a new coeducational school.
Before merging, Saint Viator and Sacred Heart were connected only loosely. As Sacred Heart was being built, the girls occupied one wing of Saint Viator's building. They also worked together on the musicals which featured actors and actresses from both schools.
Only about two decades after both opened in the early 1960s as single-sex high schools, Saint Viator and Sacred Heart each began suffering from significant drops in enrollment and finances. The possibility that they would need to close became almost a reality.
The logical solution was going coed for school president and principal Fr. Charles Bolser, C.S.V. Before coming to Saint Viator, Fr. Bolser worked at Bishop Gorman High School, an already coeducational Catholic high school in Las Vegas, Nevada.
"We live in a world today that is coed in the marketplace, in the economy, and in the corporate world, and men and women need to learn how to talk to each other and listen to one another," said Fr. Bolser. "You can't do that if you separate them, if you don't get them involved together and learning together."
Although Fr. Bolser and many other members of the community believed that going coed was the right decision, others were not so accepting. Both high schools faced controversy from some alumni, students, and parents. During the year leading up to the merge, the two schools brought in speakers to discuss the advantages of coeducation.
"We tried to get communication across the whole spectrum," said Fr. Bolser. "I was determined that we would go coed and make it work."
In the fall of 1987, Saint Viator and Sacred Heart completed the merge and both boys and girls entered Saint Viator High School.
While only Saint Viator's campus was used, Saint Viator tried to stress that the girls were not just an addition to the boys' school.
"Our goal was to have a brand new school that would reflect something being born, not something old that you're putting band aids on," said Fr. Bolser.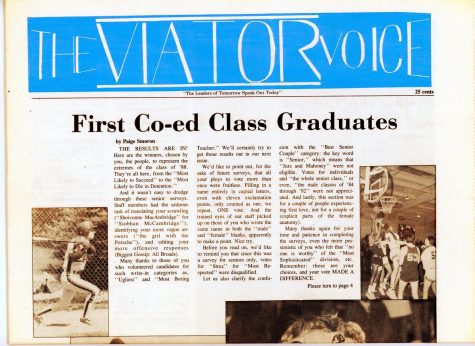 The merge brought many changes to students from both schools. Both Saint Viator and Sacred Heart brought their unique histories and traditions. The girls lost their home economics and fashion design courses, and the boys lost their programs based on different learning styles.
On a more practical level, teachers and faculty had to reapply for their jobs in an attempt to balance the administration from both schools.
Mrs. Rita King, who teaches religion and was around when Saint Viator went coed, said it was a time of both excitement and concern for the boys and girls.
With both boys and girls in the same school, students gained awareness of other people, a sense of pride in their appearance and self and a sensitivity to working with a variety of people.
"Everyone is now taking a shower before they come to school because they want to look their best," said King.
The curriculum also changed, to challenge students and thoroughly prepare them for college. This was difficult for some of the girls from Sacred Heart because Saint Viator was focused more on core subjects, such as math, that Sacred Heart did not emphasize to the same extent. The school had to grade the senior class as just passing or failing in math because the girls did not have much math background.
"The academic excellence is one thing, but we wanted to build a strong community where we loved each other, where we cared about each other," said Fr. Bolser.
Many students today agree with Fr. Bolser that coeducation is necessary in today's society.
"It'd be a different learning environment," said freshman Amelia McKenna about single-sex education. "I think it would be hard for me to be in an all-girls school because I don't think I could learn in an environment like that."
While freshman Laura Zeman agrees, she said that single-sex schools could be easier in some ways.
"It would be less distracting because sometimes there is that pressure in high school to get a boyfriend," said Zeman.
Fr. Bolser says that not only would things be different in a single-sex Saint Viator, but it might not even be around at all.
"If we had not gone coed, it'd be empty property," said Fr. Bolser.
While the school may not be holding any specific celebration of its thirty years of coeducation, it is a milestone nonetheless and students may find that it has changed many facets of the learning environment.