Holiday season gifts new service opportunities to students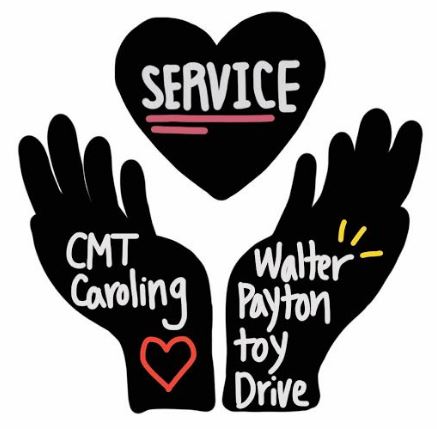 Hang on for a minute...we're trying to find some more stories you might like.
The Christmas Season is a time to be thankful and serve others who are less fortunate. Rather than focusing on the gifts they will receive, many students have turned their attention to serving others and helping their community. Opportunities during Christmas 2017 include Spanish Club's Shopping with Santa, Campus Ministry's Christmas Caroling and the Season of Sharing Gift Drive.
The 25th Annual Shopping with Santa at the Elk Grove Village Walmart on December 2, 2017 provided an opportunity for students to help the Woodfield Area Children's Organization (WACO) take underprivileged preschool students shopping for Christmas gifts.
"Students have the satisfaction of helping a child do their Christmas shopping and practice their Spanish," said Mrs. Rosemary Castellucci, Spanish teacher.
"I find great joy in helping children who wouldn't be able to shop otherwise," said junior Grace Castellese after volunteering at Shopping with Santa last year.
Christmas Caroling is December 8, and students will sing classic Christmas songs in the neighborhood and return for sweets.
"The Christmas Caroling is to celebrate Christmas, bring cheer to the Viator neighborhood, and to build community with Viator students," said Ms. Emily Egan, Campus Ministry's Fun, Friends, and Faith (F3) adult mentor.
"It is a good opportunity communicate face-to-ace with strangers rather than Instagram or Snapchat," said Wenjie Song, junior and co-leader of F3.
The Season of Sharing Gift Drive is from November 27, 2017-December 13, 2017. The drive serves the Howard Area Community Center. It allows students to connect to people in Chicago where they might not typically experience otherwise.
There are also upcoming Christmas Service opportunities to participate in. Hope Filled Holiday at Feed My Starving Children (FMSC) is December 8-10, 2017 at the Schaumburg Convention Center.
"There will be a van from Viator to Hope Filled Holiday on Sunday, December 10, 2017, but students can attend any session that weekend on their own as well," said Mr. Hisgen.
The goal of these opportunities is to get students to look around, identify need and respond with love.