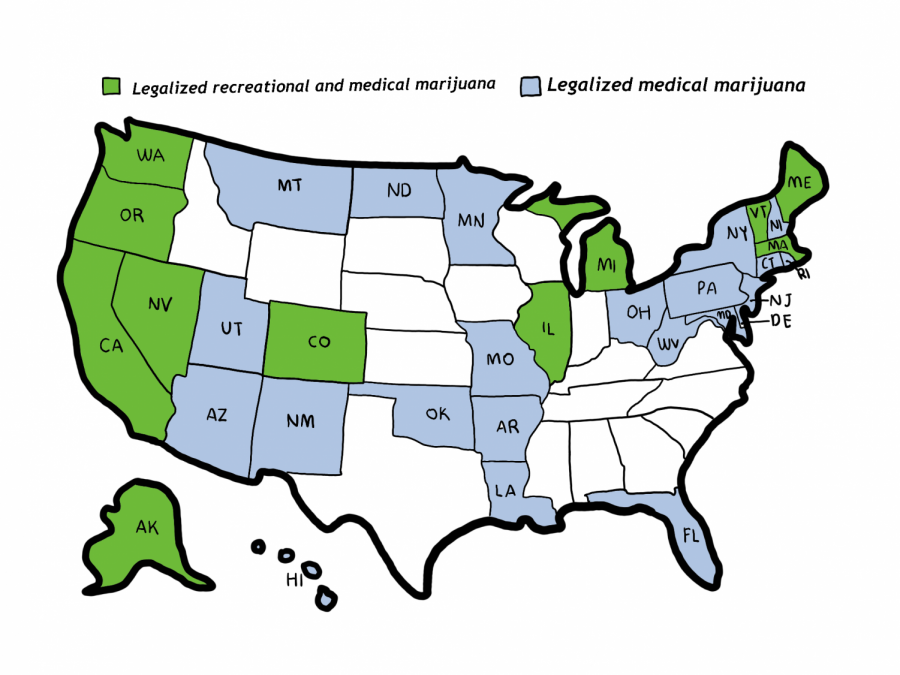 Legalized marijuana, also known as weed, offers an opportunity to promote consumer safety, create jobs and economic opportunities, save money on law enforcement in Illinois.    
Marijuana is a mild hallucinogen that contains a psychoactive chemical called THC. It creates a feeling of well-being, mild intoxication, and sometimes mild sensory distortions or hallucinations.
Much of the concern around weed came from the idea that it is a gateway drug, which means it would cause users to try harder drugs. However, research shows that most users do not go on to use harder substances. In fact, alcohol and nicotine are also gateway drugs that prime the brain to move on to more harmful substances, but those two substances remain legal and readily available to those over the age of 21. 
There is no solid information that links marijuana use to cancer, with a study in 2013 Cancer Causes & Control stating that heavily smoking marijuana may raise the risk of lung cancer, but lacking any concrete evidence. Weed also lacks addictive withdrawal symptoms that are seen with heroin, a drug considered to be much more addictive and dangerous than weed. 
Criminalization of marijuana promotes use of black market substances, which can be laced and monumentally more dangerous than federally produced substances. Eighty-five percent of patients who fall ill from vaping report having used products containing THC, with many stating that they purchased their THC products from the black market. Legalization of weed offers a chance for recreational users to know what they are putting into their bodies, rather than risking buying from illicit sources. 
The legalization of marijuana will provide an estimated 63,000 jobs by 2025 according to a report by New Frontier Data. By the same year, annual revenues would reach nearly $98 billion, with $47 billion going to the federal government nationwide. These new jobs and profit offer a chance for economic revitalization in Illinois, a state that has struggled with debt and population loss. The legalized marijuana also offers a chance for lesser costs on law enforcement. 
The movement for decriminalization began with President Carter in the 1970s, who said that "penalties against possession of a drug should not be more damaging to the individual than the drug itself."
This idea exhibits the exact reason that legalization was inevitable. Past policies over-exaggerated the harms of marijuana, encouraged black-market sales, and harshly prosecuted anyone in possession of the drug, especially minorities, with African Americans being 3.73 more times likely than whites to be arrested for marijuana, according to the ACLU. Legalization of weed in Illinois is an opportunity to right the wrongs of the past while creating a healthier and more economically prosperous future.  
Legal sales of marijuana began on January 1, 2020, as Illinois became the 11th state to legalize recreational marijuana use. This decision allows adults aged 21 and older to possess up to 30 grams of marijuana.