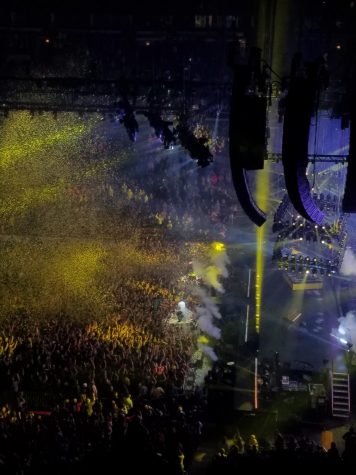 Picture by Paige Laskiewicz
Usually when a band goes on hiatus for over a year, it is a sure sign that they've broken up. However, that wasn't the case for the alternative rock band Twenty One Pilots—made up of singer Tyler Joseph and drummer Josh Dun—which has just recently released its fifth studio album titled "Trench."
"Trench" was released on October 5, 2018, with 14 tracks including hit singles "Jumpsuit," "Nico and the Niners," "Levitate," and "My Blood." After the band's success with their previous studio album "Blurryface," it was not a surprise when this album reached #1 iTunes Sales Chart in not only the US, but also in the UK, Mexico, and several other countries. The reasons behind the album's success include very dedicated fans, new and experimental sounds in the music, and lots of advertising on social media platforms. As previously stated, the band went on a one year hiatus, and many fans speculated that it was the end of Twenty One Pilots. However, the duo just needed a break from all of the publicity they were receiving to work on new music and focus on their personal lives.
"Trench" is a concept album that revolves around a place called Dema, a prison-like compound. Nine bishops, who each represent different insecurities and overthinking, are in charge of Dema. Joseph, is trying to escape Dema to a place called Trench where he will be free of all of his insecurities. In Trench, there are other people like him, who refer to themselves as Banditos, including his bandmate, and a fictional character named Clancy, who have previously escaped from the bishops. This storyline and the real life topics it mirrors are brought up throughout the 14 different tracks on "Trench" and the music videos.
The band is currently on "The Bandito Tour" from 2018-2019, and "Trench" is available in stores and can be streamed on all music platforms.