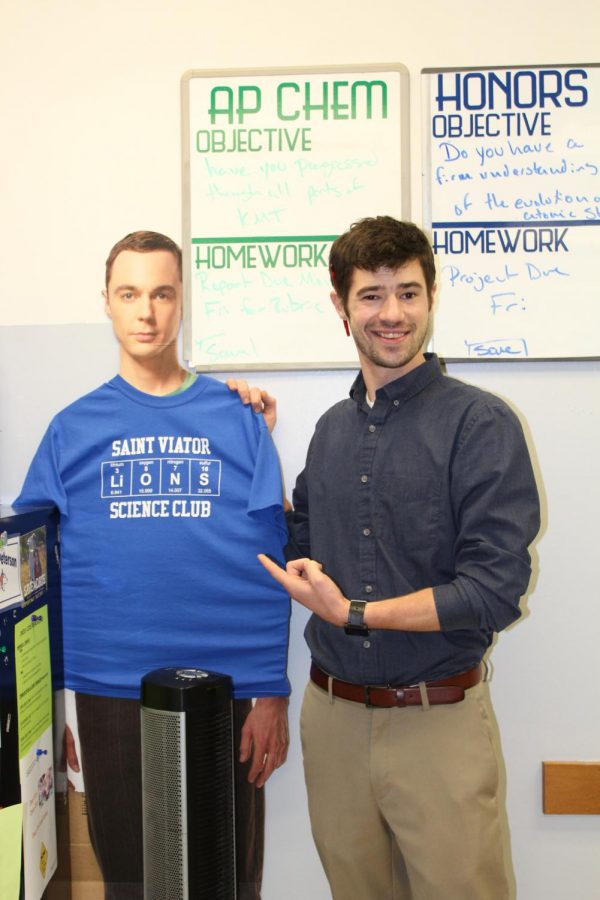 Photo by Matteo Azari
When he is not moderating sixth period lunch, new chemistry teacher Mr. Neil Flink can be found flaunting his inner nerd to staff and students. The self-proclaimed geek has always loved science, but how exactly did he end up at Saint Viator?
After excelling in his high school AP Chemistry class, Mr. Flink chose to major in chemistry and communication at the University of Illinois. When it became time to choose a career path, Mr. Flink, like most other confused students, turned to a career test. Considering his background in communication and STEM, it is no surprise each test recommended a teaching career.
"I love working with open-minded people," said Mr. Flink. "I am best used in the sciences."
So, he chose to teach physics and chemistry at Wauconda High School, but it was not long before his roots led him to Saint Viator. Growing up in the local Catholic school community, Mr. Flink had attended St. Emily Catholic School. Additionally, five of his uncles became Saint Viator alumni. Therefore, when the opportunity presented itself, his decision was simple.
"I like the culture and work ethic here. People help each other," said Mr. Flink. "It is awesome to get used to."
Beyond the classroom, Mr. Flink can be found breaking nerd stereotypes. At his last school, he coached cross country and moderated the ultimate frisbee club.
"The nerds need exercise like the rest of us," said Mr. Flink.
While he is taking the transition to extracurricular involvement slowly, Mr. Flink has no shortage of unique skills. When he was younger, his team placed third nationally for Irish dancing. Also, when he was in school, he was a three-season athlete, participating in cross country, basketball, and track.
"He is a very passionate guy," said sophomore Francesco Console.
Power to the nerds!